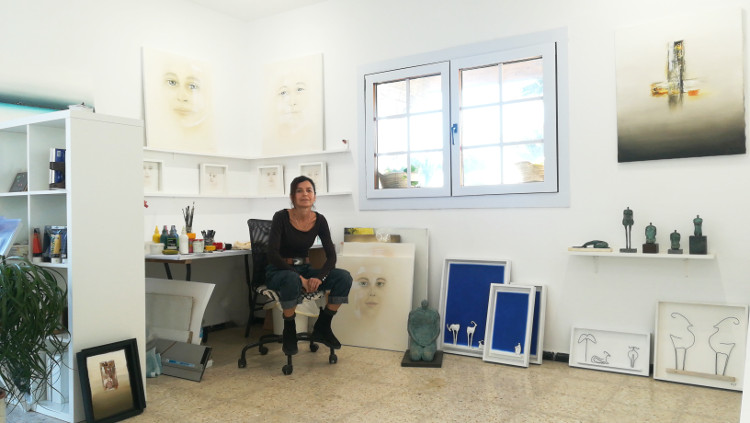 Nuria Del Pino was born in Madrid , moved to the Canary Islands at a very early age and she has always considered Fuerteventura to be her home.
She spent several years in cities such as Madrid, Barcelona, London and Boston, where she completed her studies and developed her love of art in all its forms. She studied cinematography, design, sculpture and photography…but it is in her painting that she finds her best outlet of expression.
From the beginning, she sought and experimented with different painting techniques, gradually defining her own form, language and style of painting.
She has now settled back in Fuerteventura, where she has her studio and finds the tranquility and conditions she needs to carry out her work.
"My work is about space and our relationship with it, it's to do with the big and the small, with what's inside and outside us, with the universe. The desert landscape, wide, immense, that surrounds me on the island of Fuerteventura is a constant in my work and serves as a vehicle for me to get inside the inner landscape of the human being.
I like to use different techniques, depending on the work and the moment, and introduce figurative elements in a work with abstract characteristics."
Nuria del Pino
Exhibitions:
She has held exhibitions at Galería Prado 19, Madrid.(Marzo2016), at Galería Emma in Madrid (Mayo, 2013), at Centro de Arte Juan Ismael, Fuerteventura (2015), at Hotel Bahia Real in Fuerteventura, at Club de Prensa in La Provincia Las Palmas de Gran Canaria, at Galería Paloma 18 in Burgos, at Galería Gaudí in Madrid, at Castillo del Tostón in Fuerteventura, at itinerante Naviera Armas (Canarias), at Setdart in Barcelona, among others. She has also participated at art fairs in Hamburg, Germany, with the Galería Gaudí. She has a permanent exhibition at the Centro de Arte Casa Mané, in Fuerteventura.